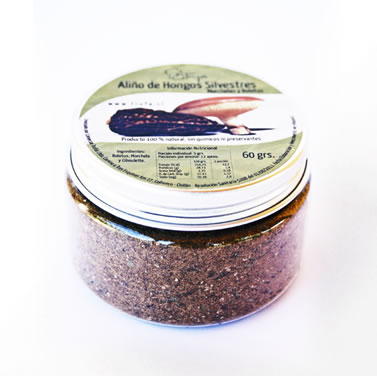 The essence of wild mushrooms and morels
We offer this innovative product made of the mixture of morels and mushrooms.
These mushrooms are harvested in the wild from mountainous areas in the Chilean regions between Talca and Punta Arenas. They undergo a cleaning treatment and then they are dried, grounded and mixed to create a balanced mixture that will combine the main flavour of both products.
After the truffle, morels are the second most valued mushroom by the international haute cuisine and are considered a vital ingredient in emblematic dishes of the French cuisine.
The other mushrooms are used for their texture and flavour; they are found fresh during autumn and dried throughout the year.
When to use it?
The mushroom mix delivers the unique flavour of the mushrooms in an easy-to-use format.
Two or three teaspoonfuls of the mix before cooking are great for hot dishes such as beef stew.
It is also good for sauces or to give a special touch to chicken or beef escallops, by covering the meat with the mix before being dipped in breadcrumbs.
When cooking fresh pasta, a couple spoonfuls in the dough can create an amazing dish that only requires some drops of olive oil to enjoy.
They can also be added to dough for gnocchi or even for bread.
Add a little of the mix to eggs before beating them for an omelette.
This product gives vegetarians a chance to vary their preparations since its completely vegetal, with an intense and diverse flavour. For example, it can be added to mashed potatoes, to freshly cooked rice, to a plate of beans or to a Jerusalem artichokes' flan.