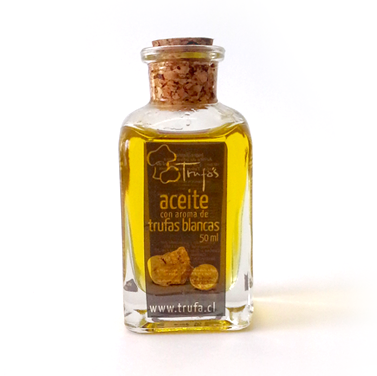 La dolce vita
With dedication and passion we have developed a combination of the aroma of white truffles and extra virgin olive oil.
Due to the full, but refined taste, our oil can exceed the demands of this true diamond of haute cuisine and also impress the most discerning palates.
How and when is it used?
White truffle oil can be used for both hot and cold dishes. White truffles are much more intense than black truffles, so we recommend an extremely careful dosage.
In order to maintain the full aroma, the oil must not be overheated. It is best to add a few drops on top of the finished dish as a last step, for example, on a risotto just before serving; a little at a veal ragout; on freshly cooked pasta; on any preparations made from potatoes or on game dishes with hare or pheasant.
Don't be afraid to combine the noble truffle with chicken, rabbit or fish such as eel and tuna. Furthermore, a variety of vegetables including cauliflower, mushrooms, zucchini, broad beans, artichokes and Jerusalem artichokes.
It also goes perfectly well with cream cheese, creamy polenta, sautéed scallops or beef carpaccio. You can dribble some just before serving on scrambled eggs, on a bruschetta or on any type of dough.
An exclusive flavor
Our oil provides an excellent opportunity to enjoy the very exclusive taste of white truffles. This rare treasure is found only in the Piedmont region of Italy and only in very small amounts.
We mix its flavor with Chilean olive oil of the highest quality, so that you can transform your simplest dishes into an unforgettable taste experience.